---
Of Life and Lunch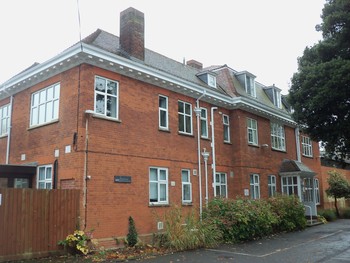 In the past, I've discussed my commute to work in both the summer, and the winter. I have yet to discuss the destination of said commute, an oversight I shall now address.

Having traversed (on my adorable folding bike) the bit of green space that often contains cows, I cross a footbridge over Vicar's Brook, and pedal gently for a few hundred feet along a foot-and-cycle path to Chaucer Road, where lies the Cognition and Brain Sciences Unit of the Medical Research Council, admirably housed in what was originally an Edwardian family house.

That family would scarcely recognize the interior now. Since the unit was formed, as the Applied Psychology Unit, in 1994, a few changes have been made. A lecture theatre has been built, rooms have been converted to offices and labs, and the whole thing has been wired for the computer networking so essential to modern research. Oh! Let us not forget the MRI and MEG scanners.

The unit has a hundred and twenty five or so staff, working on a variety of projects. That number includes fifteen or so postgraduate students at any given time. Which brings me to the most important thing about the facility - the kitchen is really very good indeed. You can't see them in the picture, but there are two microwaves and a sandwich press off to the left, a dishwasher, a device which provides nearly-boiling water on demand - no need for a kettle here! - a cold water dispenser, an oven, and - mirabile dictu - an induction cooktop. Two of the other members of the computing group are also, shall I say, "interested" in coffee, which means that I can start my work day properly, using the stainless steel espresso maker visible on the draining rack on said cooktop.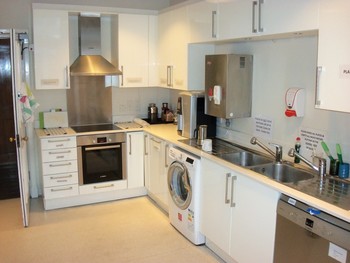 I suspect, given housing prices in Cambridge and the general lodging options of postgrads, that the kitchen is nicer than some of the staff have at home. Whether or not that's true, what is true is that, as the lunch hour rolls around, the kitchen gets crowded, and some rather elaborate meals are prepared. It's a rather convivial, if crowded, scene, as people from a wide spectrum of backgrounds and nationalities - we're quite an eclectic and international facility - jostle around and make their lunches.
I can't be bothered, of course. I start my day early, which means I'm ready for lunch unfashionably early as well. Furthermore, while I have made use of the sandwich press a few times, most of the kitchen equipment goes unused, at least by me. (The espresso maker doesn't count - it isn't part of the kitchen kit, it lives in our office.) Sad to say, my work dining habits were forged in the furnaces of climate research facilities in Colorado and New York. Those facilities had microwaves. Admittedly, I'm often eating leftovers for lunch, and microwaves are great for reheating leftovers.
For lunches, I'm also a fan of simple one-pot (or one-microwavable-container) meals, and this has led me in recent months, into experiments with non-standard uses for oats, that is to say, savoury porridges. Which I discuss further on the main Aspiring Luddite site
---
Luddite'sLog, 24 November 2016
© 2016 Jeff Berry
---