As 1985 drew to a close, I went on a tear, at least as far as rapier was concerned. Somewhere in this time period I went on a streak of about a year where I won every tournament I entered, and I entered quite a few up and down I-25, the main North-South highway in the Outlands. I didn't get outside of the Principality very often, but I did make it to Estrella in 1987 and won the rapier tournament there. (The prize was an epée with a bell guard and quilons - the first quilons I ever had on a sword. I still have bits of that hardware in my garage.) Fencing was growing, though, and Caer Galen (Boulder, CO) was the hotbed. I was there, and teaching. Ian of Nightsgate, who was in Unser Hafen when I met him, moved down. Soon after, Max - Massimiliano Pontieri de Sasso - also came down from Unser Hafen. A year later, so too did Genevieve Duran. I think I started teaching all of them, but Ian and Max were soon going to Northern Colorado Fencers and studying with Gary Copeland. The extra training they got there brought my reign of terror to end toward the end of 1986 or early 1987. In any case, Caer Galen was the dominant fencing force in the Principality, and remained so for several years. Of the first ten Outlandish White Scarves, five or six were from Caer Galen, and another couple were from just down the road in Caerthe. The rest were from al-Barran. (Ian and Max were in the first five, Genevieve was eighteenth.)

Although I was barely aware of it at the time, in November of 1985, a poll had gone out about the Outlands becoming a Kingdom. I probably received a poll, and probably responded. I honestly have no memory of it, though. I was only a couple of years in and was still mostly thinking locally. I was active in the Principality, but never made it to the rest of the Kingdom - across the Rocky Mountains. It was much easier to take my tiny little Subaru up and down the highway on my side of the mountains. There was discussion at the time about who should be the first Kingdom Rapier Marshall, and my name was on the table. It was decided that Jarl Freana would be a better choice for the initial KRM, and in hindsight, it was a wise choice. As a Master at Arms and Royal Peer, his ability to establish the program far outstripped mine. I would settle for being second in a few years' time. On the subject of the poll, it is giving nothing away to say that it was positive, and the Outlands would become a Kingdom in the middle of 1986.

Before that, however, was Grand Outlandish. This was the largest camping event in the Outlands, held over the long Memorial Day weekend outside of Albuquerque. I had heard the stories about it and it sounded great! I arranged to borrow camping gear from my parents, who were conveniently along my route south from Boulder, and made plans to go. By this time, I had been semi-adopted by The Abbey (aka St Mary's Abbey), the household of the Baroness of Caerthe, whose champion I was, so I would be camping with them at Grand Outlandish in May of 1986. I was quite excited. The Abbey had (and has) a reputation for, shall we say, a certain decadence - especially at camping events. Breakfast at least one day would be Eggs Benedict, for instance. The Abbey was also renowned for its cooks, and it is likely that somewhere in this general time frame I first set foot in an SCA kitchen. (My mother had taught me to cook as a child - if you are willing to grant that at this point I was no longer strictly speaking a child.)

I packed my kit up in Boulder, drove to my parents' house in Aurora, loaded up there kit and continued along to the site. I found the camp and set up. The Abbey's camp was marked out by a small border which I heard referred to as 'a snubbery' - a name which still amuses me. The tent went up and I had time to watch a bit more of the area being set up. Most memorably, a couple of the al-Barranians who had access to the site all week were just finishing installing the waterbed. Quite the luxury, since I don't think the site had running water, and it all had to be trucked in.

In the morning, there was opening court for the event. At long events, this was commonplace. It was where announcements were made about schedule and site rules and so forth. As information was essentially limited to postal speed, anything which hadn't been finalized in the previous month's newsletter would be unknown to most attendees. At this particular court, the herald (or more likely the chirurgeon) got up said something like this. 'Welcome to Outlandish! A few important things to remember. This is a plague area, so if you see any dead animals do not approach them, find a member of staff to dispose of them. If, in a few weeks, you begin to develop flu-like symptoms, tell your doctor you were in a plague zone. Bubonic plague is easily treated if diagnosed early enough, but most doctors are unlikely to test for it.'

In addition to Black Death, this was also a rattlesnake area. It was pointed out that, in general, the snakes won't bother you if you don't bother them. Sound advice. Unless, of course, you have camped in their usual path of travel and have a small child. If memory serves, such was the case of Edward Tremaine, a fencer from Aarquelle. The snake appeared, and was carefully removed. It returned. After the second or third time, Edward fetched his rapier. Suffice it to say that the next year, his hat had a snakeskin band on it. (NB: this event might not have taken place at that Outlandish; it might have been the next year, or possibly even the year after.)

There was no fencing on the schedule. So I went in search of the marshal for the event, who was also Kingdom Earl Marshal at the time I think, to ask if we could have a tourney on one of the fields when it wasn't being used. This request was denied, the restriction against 'live steel' on the field was cited as the reason. Undaunted, we decided to have a tournament in the street. We put out the call for a bottle tournament. To enter the tournament, a fencer needed to put a bottle into the kitty. It didn't have to be alcohol, and bottle was pretty loosely interpreted - I seem to recall several cans of soda making it into the pile. The winner, quite naturally, took all. Since this during my streak, I, quite naturally won and took all.

I got onto the docket at closing court. In court, I thanked the hosting group for their graciousness in allowing us to have a tournament, and presented the Baron and Baroness with a bottle from my winnings. At the same court, I was awarded arms by Prince Johann and Princess Andreah, the last Prince and Princess of the Principality of the Outlands. Their Heirs would be the first King and Queen of the Kingdom of the Outlands.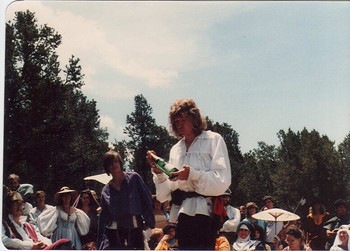 The presentation of the bottle to Baron Stefan and Baroness Beau Marishka. Seated on the throne to the left is Prince Johan. On my belt is a red scarf, edged in black, which suggests that this may also have been the time when an Academy of Fence was being bruited in the Outlands. It never really took off. More research is needed. (Read: more digging through my files.)