---
A Delayed Report from a Trip to the North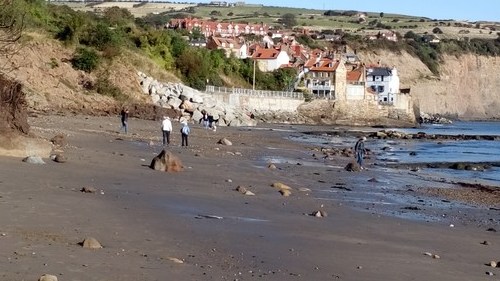 This past September was our 20th wedding anniversary. I had intended to write about it sooner, but, what with one thing and another, I didn't. To summarize, it was grand.

I had been planning it for nearly a year, and dropping only vague hints to my wife about what was going on. Things like, 'You won't need a passport' or 'We won't take a plane.' My playful mania for secrecy extended to printing out the directions to our destination and then cutting each individual stage and making a little booklet, so she could navigate but was never more than a few miles and a turn or two ahead of where we were on the road. Once we reached Hull, she was able to guess our final destination, though.

I had booked us a period cottage/rowhouse in Robin Hood's Bay, a lovely village that was once a fishing port and now is primarily a holiday destination - with good reason. Not only is it lovely in its own right, but it's on a section of coast which is rich in history and pre-history. We interrupted our travel for a lovely lunch at The King's Head, a 14th century pub in the Lincolnshire Wolds, and a stop for supplies at a market on the road, and arrived in time to settle in before I made dinner in our lodgings.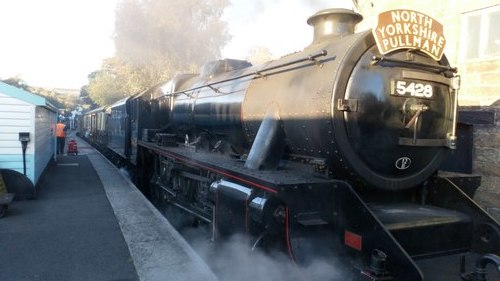 Saturday we walked along the beach and got to know the area a little bit before the centrepiece of the trip. My wife has developed a passion for steam trains since we moved to England. (I've discussed this in passing here.) So when I discovered that The North Yorkshire Moors Railway was running a Pullman dining service on the weekend of our anniversary, that was our Saturday dinner sorted. As it turned out, there was a special event that night, a wedding, which explained the special nameplate on the top of the loco. As it happened, film crews were on hand as well. The NYMR is the subject of a documentary/reality show called All Aboard, and they were filming the second series. At the end of the night, we got off the train, and my wife stayed to watch the loco being moved around with such interest they shot some interview footage of her. We don't know yet if the footage made it into the final cut, but they would be fools not to use it. (In my utterly unbiased opinion, of course.)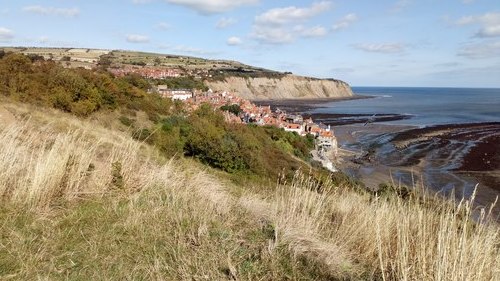 On the Sunday, we walked the six miles into Whitby along the Cleveland Way. The path goes along the coast, with fantastic views of the North Sea. The late September weather cooperated, and although it was windy, it stayed dry. Whitby is famous for two things. (Well, three if you count Whitby Jet.) The first is as the place where Bram Stoker wrote Dracula, as a result of which it is home to the largest Goth festival in England and more vampire themed shops than you can shake a stick (or stake) at. It's easy to spot some of his inspirations. The graveyard of Saint Mary's church has a suitably Draculian aspect, and the ruins of Whitby Abbey are striking and picturesque. (Although for historical interest, it doesn't even make my top three Yorkshire abbeys.) The other claim to fame is its fish&chips. We'd been to Whitby before (once by NYMR train from Pickering!) so we knew where to go when we walked past the abbey on our way in to town. There are some who claim that Magpie is the place to go, but for sentimental reasons we always go to Quayside. Then we took the bus back to Robin Hood's Bay because we were tired and our feet hurt.
We had another day, and spent it quietly in the village, relaxing before setting out on Tuesday to drive back home, recharged after a lovely, celebratory weekend.
---
Luddite'sLog, 6 February 2019
© 2019 Jeff Berry
---