---
Boxtie
8 November 2012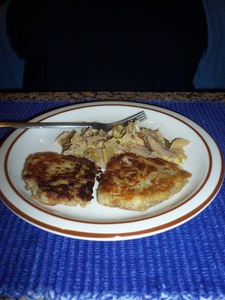 The other week we were having dinner with some friends at something which claimed to be an Irish Pub. The menu featured such classic Irish dishes as chili, French onion soup, nachos, eggrolls, some panini, and butternut squash ravioli, which should have clued us in about the rigor of their adherence to Irish tradition.
In any case, the specials included a lamb stew, which was pretty decent, and an appetizer that featured boxtie. The boxtie failed to pass muster with our companions who have some experience with it. I took that as a challenge, since our CSA had been giving us lovely potatoes for the last few weeks and it was looking like it would keep doing so for the next few.
Boxtie is an Irish style of potato pancake, and a bit of research suggested that boxtie, as with so many foods which are essentially home-cooking, is subject to wide variation. One thing did sort of jump out at me as sufficiently common to give me a starting place: most of the recipes I glanced at featured a mixture of raw grated and cooked mashed potatoes as the base. I stayed simple and added flour, cream and some salt. The result was pretty darn good. We served them with boiled cabbage, with mustard on the side.
Enjoy.

Boxtie
8-10 medium to small potatoes
1/2 cup plus 1 Tb heavy cream
1 cup flour
1 Tb salt
butter for frying
Grate about half the potatoes and put them in a colander to drain. Stir them around and squish them now and then, if you are so inclined, to help remove the liquid.

Boil the other half of the potatoes until just done. Drain them, add the tablespoon of heavy cream and mash.

Mix the potatoes and the other potatoes together. Add the flour, the salt and the rest of the heavy cream. The result should be a fairly stiff batter.

Melt butter in a skillet over medium-high heat. Drop in dollops of batter, squish them down and cook, flipping as needed, until they are done. Serve.

I like mine still warm, with more butter and salt.
---
© 2012 Jeff Berry
---
The Aspiring Luddite