---
Fall Casserole
10 November 2011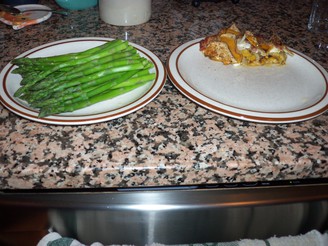 Many years ago, I found a recipe, I think it was Hungarian, that called for hard-boiled egg and salami. For some reason the ghost of that recipe was summoned out of the depths of my memory shortly after our return from our annual camping trip. Perhaps it was because I had left-over hard-boiled eggs. I had no salami, but I had bacon, and a selection of some winter vegetables, and a hearty casserole sounded like just the thing.
Fall Casserole
2-4 sweet potatoes, depending on size
1 large onion
1 cup grated cheese (I used Jarlsberg)
six hard-boiled eggs (more or less)
six strips of bacon (more or less)
1/2 cup broth (I used pork)
salt and pepper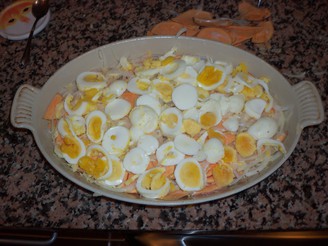 Slice your sweet potatoes thinly. A food processor or a mandoline is probably simplest, but exercising your good, old-fashioned knife skills will also work. Repeat the process with the onion. Cut the eggs into slices as well. (A food processor is not recommended for that particular task.) Preheat the oven to 350F and begin construction.

Put a layer of sweet potato in the bottom of your casserole dish, using about one-third of the potato. Layer half the onion, then half the cheese. Make another layer of sweet potato, using another third, then the rest of the onion and then the rest of the cheese. Layer your eggs across the dish, then the bacon. You'd like the entire top covered by a layer of bacon, so if you need to use another strip or two, don't be shy about doing so. Then apply the last of the sweet potatoes. Even if you have been somewhat cavalier in making the first couple of layers, and I certainly was, taking a moment here to arrange the sweet potato tidily will make for an attractive finished product. Press down on the center of the casserole to compact it just a bit, but more importantly to try to even it out toward the edges, so it doesn't bulge in the middle. Gently add the broth, then top it with a fairly aggressive grinding of black pepper and a retrained sprinkling of salt - after all there's bacon inside! Cover and pop into the oven for an hour-and-a-half.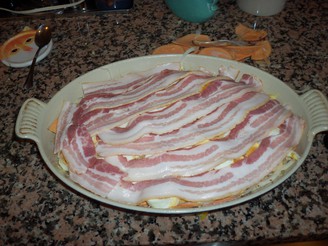 Clearly there is great scope for personalization in this recipe. You could use regular potato rather than sweet, you could use more or less onion, or more or less cheese. If you have no broth, you could substitute another liquid, although that will have a significant effect on the final outcome. If you'd like, you could also cook it uncovered, which will give the top layer a crispy, dry, chip-like texture - there's not enough liquid to keep that top layer moist unless you cover it.
This is a pretty hearty casserole, with steamed asparagus topped with roasted garlic butter, it made a fine dinner. Reheated, it's good for lunch or breakfast.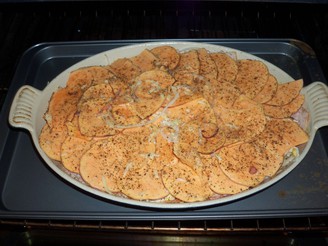 ---
© 2011 Jeff Berry
---
The Aspiring Luddite