---
Simple Stroganoff
22 March 2012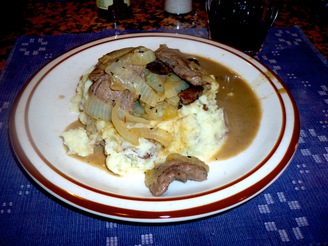 I like cheap cuts of meat and offal. Generally, that's where the flavour lives. More expensive cuts tend to be more about texture than taste. Although that's a gross generalization, there's a reason why the classic preparation of filet mignon is wrapped in bacon - to add some flavour. So tenderloin is not usually my favorite cut.
However, there are exceptions. Stroganoff, while it works with almost any cut, benefits from boneless and tender meat. The elements of the sauce enhance the fairly bland cut, and the silky meat works with the textures of the mushrooms and onions.
I still don't usually go out of my way to buy tenderloin. But ... there was some tenderloin in the batch of venison I acquired a few months ago. There was leftover gravy from the steak and kidney pie I made a few weeks ago. There were mushrooms and creme fraiche at the market a few days ago ...
Simple Stroganoff
1 large onion
2 medium portobello mushrooms
12 oz./250 gm tenderloin (see note below)
2 cups strong broth or gravy (see note below)
1/2 cup creme fraiche (or sour cream)
salt and pepper
a few Tbs of your lipid of choice
Slice the onions, and sweat them down in a bit of your lipid of choice - vegetable oil, olive oil, butter, whatever. I used some mixed goose-duck fat and it worked beautifully. Remove the onions, add a bit more fat, if needed, then add your mushrooms cut into medium bite-sized chunks. Cook them down a bit, then remove. Again, refresh your lipid if needed, then take your meat, sliced into strips or chunks as your prefer and seasoned with salt and pepper, and brown thoroughly. Add the stock and return the onions and mushrooms to the pan. Bring up to a simmer and simmer for just a few minutes, until the meat is done. Add the creme fraiche, mix well and bring everything just up to the point where it starts simmering, and then serve.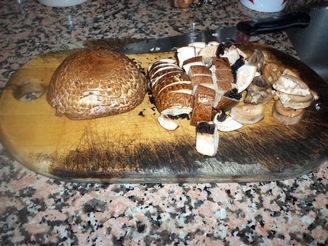 Meat:
The cut and type of meat is open to a great deal of preference. Beef tenderloin is traditional. I usually use pork, but the venison was lovely, too. Other cuts could certainly be used, but cuts which require long cooking would need to be treated differently, so 'steak' or 'chop' cuts are probably preferred. (Although, simmering the meat for a long time in the gravy, until tender, before adding the creme fraiche would also work.) Some folks even use chicken.
Broth or gravy:
A good, rich gravy is optimal for this, since it makes the whole dish come together in just a few minutes. However, a nice broth would also work. If your broth or gravy isn't thick enough, consider dusting your protein with flour before browning it. Lacking broth or gravy, up the seasoning level and use water. Wine might also be a nice way to add some more flavour.
---
© 2012 Jeff Berry
---
The Aspiring Luddite