---
Rabbit Stewed with Tomatoes
10 March 2011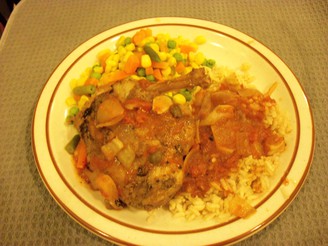 Many years ago, there was a restaurant in Boulder, CO called Maatam Fez. They served a rabbit dish which stands tall in my memory, although with the years it is almost certain that my memory of it bears little relation to the dish I ate. Be that as it may, after dining there, my girlfriend-at-the-time and I spent several days trying to recreate the recipe. I recall that we got pretty close. Whether or not we did, that experience has colored the way I approach rabbit. (And I don't mean "the way I sneak up on it in a field or the grocery store.)
When my meat provider began to offer rabbit, I made a note to get one at some point, and finally I did. And to cook it, my mind flew back, not to a memory of a madeline, but to a memory of a fine rabbit dish of the past.
Rabbit Stewed with Tomatoes
1 whole rabbit. Mine was about 3 1/4 lbs.
1 large onion
4 cloves of garlic (or more to your taste)
salt and pepper
3 tsp sharp Hungarian paprika (again, or more to your taste)
olive oil
28 oz. can of crushed tomatoes
1/3 bottle of red wine (I used Australian Shiraz)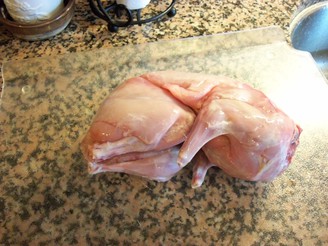 Break the rabbit down into two front and two hind leg quarters. Then cut the back/spine more or less in half. The process is much like breaking down a chicken, but the rabbit back is much meatier, so those back pieces won't be saved for stock, but will be used directly.

That said, the lower back has less meat on it, so put it in the bottom of your crock pot or stew pot. It will serve mostly to flavor the sauce. Pour the can of tomatoes on top of it.

Season the rest of the pieces, including the upper back, with salt, pepper and paprika. You can be rather aggressive with the seasoning, since it's also going to be seasoning the sauce. Brown the meat in the olive oil and arrange the browned pieces on top of the tomatoes. Deglaze the pan with the red wine and dump that on top.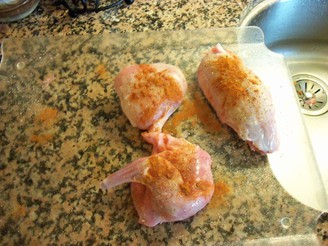 Dice half the onion and half the garlic and sprinkle that on top. Then let it go in the crock pot on low for a couple of hours. If using a regular stew pot, get it to a low simmer, cover and let it go for not quite as long. Then give everything a gentle stir, add the other half of the onion and garlic, cover again and let it simmer for another half an hour or so.
We served it over rice. The sweetness of the meat plays well with the acid of the tomatoes and the mellow heat of the paprika. Delicious.
(As an added bonus, the rabbit came with offal inside, which I have frozen, pending a decision on what to make with it.)
---
© 2011 Jeff Berry
---
The Aspiring Luddite