---
Barley Pudding and Cheese Tart
23 June 2011
As I mentioned a few weeks ago, Marc Meltonville gave a talk last week on "Reconstructing Historic Royal Kitchens," sponsored by the Culinary Historians of New York. To prepare, I worked up a few recipes, including the Asparagus Stuffed French Rolls from the article above, as well as the Herbe-blade medieval meat pie. But there was more, dear reader, much more. I'm saving one for a later article, since I want to experiment with it some more - and take it to places it was not intended to go, but several others made an appearance and were well-received, so without further ado, here they are.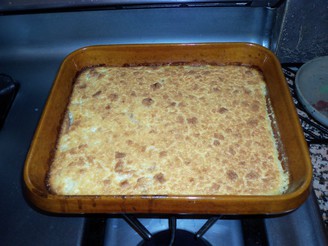 First from Hannah Glasse's 1747 "The Art of Cookery made Plain and Easy."
A Pearl Barley Pudding
Take a Pound of Pearl Barley, wash it clean, put to it three Quarts of new Milk, and half a pound of double refined Sugar, a Nutmeg grated, then put it into a deep Pan, and bake it with brown Bread ; then take it out of the Oven, beat up six Eggs ; mix with half a Pound of melted Butter, and a quarter of a Pound of grated Bread ; mix all well together, butter a Dish and pour it in, and bake in again an Hour, and will be excellent.
Or, for the modern cook and kitchen ...
Barley Pudding
1/3 pound barley
1 quart of milk
a scant 1/2 cup of sugar
1/2 - 1 tsp nutmeg
2 eggs, beaten
5 Tbs butter
1 cup breadcrumbs
Mix the barley, milk, sugar and nutmeg in a deep oven safe dish. ("Deep" is important, since it will bubble up.) Bake at 350F for one hour. Remove from the oven and add the eggs, butter and breadcrumbs. Mix well, pour into a buttered pan - a 9x12 pan will result in a thin pudding, if you'd like it thicker use a smaller pan. Return to the oven and bake another hour. Let cool thoroughly before slicing.

If you want to try to serve this in slices rather than scoops, I recommend letting it cool overnight in the fridge. You might also want to make a thicker pudding by putting it into a smaller pan.

The pudding is sweet, but not overly so and has a lovely taste of barley.

The second recipe is from British Library Harley MS 4016, dated to the mid Fifteenth Century, and reproduced in "Two Fifteenth-Century Cookery-Books," edited by Thomas Austin.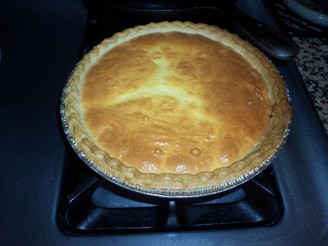 Lese fryes
Take nessh chese, and pare it clene, and grinde hit in a mortar small, and draw yolkes and white of egges thorgh a straynour, and cast there-to, and grinde hem togidre,; then cast thereto Sugar, butter and salt, and put al togidre in a coffyn of faire paast, And lete bake ynowe, and then serve it forthe.
This is another fairly straightforward adaptation ...
Lese Fryes - Cheese Tart
3/4 pound soft cheese
5 eggs
1 Tb sugar
2 Tb butter
1 Tb salt
pastry crust
Cheese choice will drive the character of this tart. We are told nessh ("soft") but solid enough to be pared clean. Brie would be good, although even by this date, Brie is often mentioned by name if it is intended. But a simple Swiss-type cheese would be fine, gouda-style would work. Cheddar might be good, but the cheddaring technique is, I believe, a later innovation. I used Muenster to good effect.

If you have a large enough mortar and an appropriate scullion, you could run the cheese through the mortar, but I recommend a food processor. If the cheese is nessh enough, just cut it up a bit and toss it in, if it's harder, you might need to grate it first. Add the other ingredients and process 'til smooth. Put the mix, which should be quite thick, into a pie-shell and bake at 350F for 40-45 minutes or until it sets.

For the pie shell use your own favorite recipe or brand, but do be sure to blind bake it for ten minutes or so before putting in the filling.

This recipe yields a very dense, cheesy tart - a hearty main dish, not a light appetizer.
---
© 2011 Jeff Berry
---
The Aspiring Luddite