---
Not Really Kraut Dogs
12 January 2012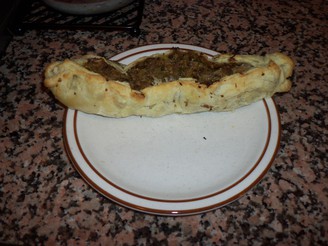 It is Sports Season! And during Sports Season, I understand that is common to celebrate a kind of pre-competition festivity which features eating from the back of one's vehicle. Traditionally, this festival features activities like charring varieties of charcuterie or forcemeats, and often serving them on squishy objects which lay some claim to belonging to the bread family. Or so I've been told. I've seen pictures, too, on the Intarwebz, so it must be true.
Sadly, I do not follow Sports. Nor is my vehicle suited to cooking or serving hot foods, or any food, really. Thus I rarely find myself at this sort of celebration. However, I do like charcuterie! So I did this instead and ate it at home. We did watch a little bit of Sports on tv, though.
It's a riff on a hot dog with sauerkraut, as well as an interesting and unusual way to use brussels sprouts.
Not-Really-Kraut-Dogs
maybe
"Chiens de Bruxelles"
(or maybe not)
2 cups brussels sprouts (about 275 grams or 10 oz.)
1 onion
1 Tbs cooking lipid. Goose grease was what I used, but olive oil would be fine. Butter is probably not the right choice.
a good sprinkling of salt
1/2 tsp caraway seeds
1 Tbs balsamic vinegar
about a foot of sausage, cut into whatever lengths pleases you.
one sheet of puff pastry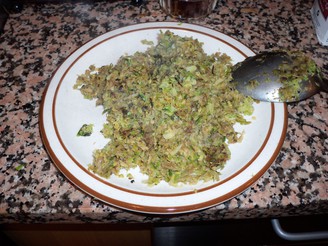 The first thing to do is make the brussels sprout slaw/sauerkraut surrogate. Grate the sprouts. Mince the onion or grate it as well. I ran both sprouts and onion through the food processor grating blade, myself. Heat the oil or grease in a large skillet over high heat. As I mention above, butter is probably not a good choice since it would tend to burn. Olive oil would work, but if you've got goose grease, schmaltz or bacon drippings, I'd go that route. Unless you're vegetarian, of course. When the lipid is hot, add the sprouts, onion, caraway seeds and salt. Cook, stirring regularly, until the vegetables get a little color on them. I let them go about ten minutes. Once some of the water has cooked off, you might want to knock the heat down a skosh, to avoid burning. Add the balsamic vinegar and mix thoroughly, then remove from the heat and let cool.

Take your sausage and make sure it is cooked. I can't get a whole lot more specific than that, since I don't know what kind of sausage you have. Sausage choice will have a heavy impact on the final dish, so choose carefully. Ideally, you've got home-made sausage tailored to your taste and idiosyncrasies. Failing that, bratwurst would work and might be pre-cooked, to boot. Kielbasa would be good. I'd avoid things like hot italian, though, since it would overpower the sprout-stuff. I used a home-made Polish style sausage, slightly modified from an early 17th Century recipe - and that was pretty good.

You will also require puff-pastry, and, I confess, I use store-bought. I rarely make my own pastry - it's a failing, and one that I may remedy some day. But be that as it may, you'll need some puff-pastry. One store-bought sheet should be sufficient. Roll it out a bit and cut it in half. Pre-heat the oven to 400F and assemble the "chien." You can make whatever portions you want, naturally, but I'm assuming two roughly six-inch pieces of sausage. Place one piece on the pastry and pack a third or more of your sprout-stuff around it. (If you're looking at my picture, that really is only one 6-inch piece of sausage. I broke it a little to make it sit straighter.) Fold up the ends and edges and crimp them together. You don't need a firm seal since we're looking for shape rather than sealing juices in. Repeat with the other piece of sausage and pastry. Fill in with any remaining sprout-stuff, or just eat the rest, as I did. Put into the hot oven for about 15 minutes, until the pastry has browned to your satisfaction.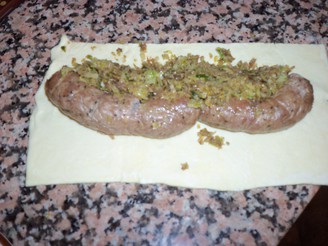 Serve with mustard. Beer would be appropriate, but we had cocktails and that was good, too.
---
© 2012 Jeff Berry
---
The Aspiring Luddite