---
Pear Cake
22 December 2011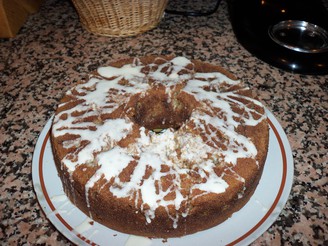 I'm not opposed to sweets, at least, not systematically. I just don't tend to make a lot of cakes, pies, cookies and what not. Sometimes, however, the urge takes me, the larder cooperates and cakes result ...
A few years ago, a friend of mine from summer stock theatre gave me a recipe for an apple cake with chocolate chips in it that I have since made on several occasions with great success. One of its great charms is that it is a great way to use up apples that are, perhaps, just on the further side of staid middle-age.
This year, I had no excess, elderly apples, but a surfeit of pears. Earlier in the year, I cored and diced some, bagged them, and stuck them in the freezer. I noticed them again a week or so ago and decided to use them in a pie. Then the apple cake recipe came to mind and I revised my thinking. I used it as a jumping off place, and created this moist and sweet, but not too sweet, cake.
Pear Cake
2 eggs
1 cup of sugar
3/4 cup canola oil (or other light vegetable oil)
2 cups of diced pears
5 cloves, ground
2 white cardamom pods, casings removed and seeds ground
1 tsp ground cinnamon
a pinch of salt
1 tsp baking soda
2 1/2 cups flour
optionally, 1/2 of nuts, chips (chocolate, white, butterscotch, etc. I used white.)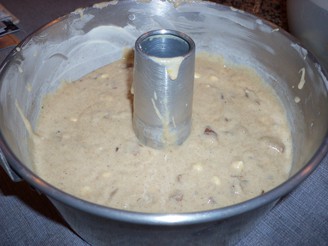 Mix the eggs and the sugar thoroughly together. Add the pears and the oil and mix gently. If you are using chips or other additions, add them as well. Add 1 cup of flour and all the spices and stir together until fully combined. Add the remaining flour and mix until just combined.

Butter a bundt pan and pre-heat the oven to 350F. Pour the batter into the pan, and bang it gently on the counter once or twice to settle the batter. Slide it into the oven and bake for an hour. Test it with a skewer, if it comes out clean, it's done. If it doesn't give it another ten minutes. Some pears are more watery than others, and the watery ones may need a little extra time.

Let the cake cool for ten or fifteen minutes in the pan, then remove it to a plate and let it continue to cool. You can serve it as is, warm or completely cool, but if you want to really gild the lily, you can add a little glaze-like something on top.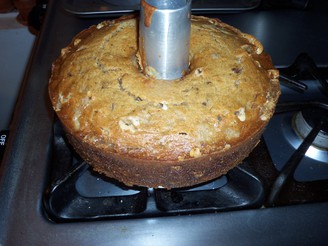 For a glaze-like something, I recommend mixing 1/8 cup of Grand Marnier and 1/2 cup of powdered sugar until smooth, and then drizzling it on decoratively from your spoon.
My pan is one that has removable sides, and slipping a butter knife along the bottom and around the center made it easy-peasy to de-pan the cake in one piece. I find that drizzling the glaze-like something on while the cake is still just barely warm and serving immediately works nicely.
Happy Holidays! See you in two weeks.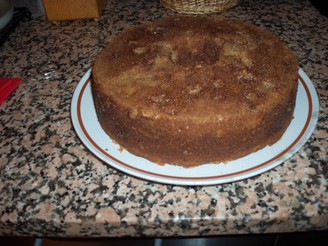 ---
© 2011 Jeff Berry
---
The Aspiring Luddite