---
Shrimp skewers and Barley Pilaf
21 April 2011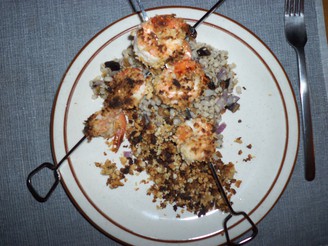 Lent is nearly over, and next week, expect to see flesh and dairy food porn clogging this site and your arteries. However, at the moment, it is still Lent, and Lent, as I hope I've demonstrated over the last few weeks, doesn't mean that you can't eat well. For the last Lenten dish of 2011, we shall dive once again into the sea.
Shrimp freezes well, so we tend to keep some in the freezer most of the time, ready to pull out, thaw and cook. Often that means nothing more than a few minutes in the pan with the sauce before serving over pasta, but sometimes something a little extra seems called for.
I served it with barley pilaf. I love barley and it always surprises me that it's not more popular than it is. Pilaf is an easy way to dip your toe in the barley pool, if that makes sense.
Asian Style Shrimp en Brochette
6 medium shrimp per person
bread crumbs, panko works well
1/4 cup honey, more or less
1 tsp. lemon juice
1 Tbs. or so Asian spice mix
First let's discuss the spices. Really you could use anything you want here, but I said Asian, so let's talk Asian. Lots of people sell Asian spice mixes, and they usually have some hot pepper, some ginger, maybe some citrus peel, and so forth. If you want to make your own, there are many sites on the web which will give you their recipes. Or you could simply use a pinch of as many of the following as you have around:
ground ginger
red pepper flakes
salt
black pepper
five spice powder
lemon peel (or other citrus peel)
garlic powder
onion powder
and whatever else takes your fancy.

Anyway, start by mixing your spices, the honey and the lemon juice. I suggest putting the whole thing in the microwave for a few seconds to thin the honey out. Put the panko crumbs in another bowl. Dip the shrimp in the honey and then coat with crumbs. Impale on a skewer, I use three shrimp per skewer, then put across the top of a roasting pan or cookie sheet so they are suspended in the air. Repeat as needed. I like to finish up by mixing the left over crumbs in the left over spice-y honey and putting that on the cookie sheet as well to make delicious crumby-bits.

Move the top oven rack as high as it will go and turn the broiler on low. Broil for three minutes or so, then flip the the shrimp and broil for another minute or two. Keep an eye on them, you want them to cook and get that lovely pink look, but you don't want them to go much beyond that point. Serve with barley pilaf.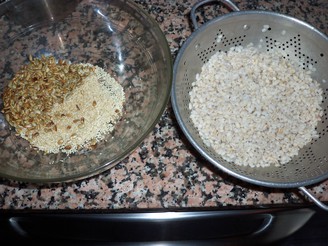 Barley Pilaf
1 cup barley
1 1/2 cups water (or more, you're going to drain it later anyway)
salt to taste
1 tsp lemon juice
1/4 cup toasted sesame seeds
1/4 cup toasted sunflower seeds
1/4 of a red onion, finely chopped
a bit of mushroom, if you have it. A cremini is about the right size.
1 Tbs. fresh parsley (or 1 tsp. dried parsley) or more, if you like
Boil the barley in the water until just tender, perhaps half an hour. Move to a colander and rinse well. (Usually, I'd save the barley liquor, but for this recipe, I don't want it to clump up as it cools.) Set aside to cool.

If you need to toast your sesame seeds and sunflower seeds, do so in a hot pan. Let them cool as well. Then combine all the ingredients and stir. It's best if the barley is still a little wet when you combine, just to keep the spices moving. Set aside to let the flavors combine and get started on the shrimp.

The contrast of textures between the tender and chewy barley, the crunchy sunflower seeds, and the meaty mushrooms works well, and the red onion adds a little color, which is nice in an otherwise fairly pale dish.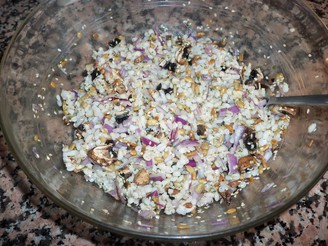 ---
© 2011 Jeff Berry
---
The Aspiring Luddite