---
The Harbingers of Spring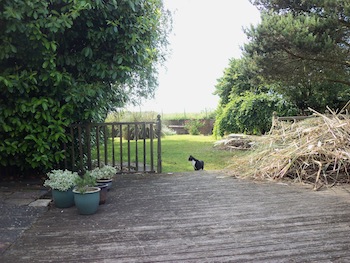 There are a few signs that let me know that spring is here. The cows return to the common, for one thing, and my commute beings to involve negotiating passage with the herd and routing around cowpats on the cycle path. The mint, which has looked dead for the winter months, springs back into life. The first mint julep of the season is always a cause for celebration.

The most subtle, and in some ways most beautiful, indication that spring has arrived, is the flight of the bats. There is only a short window of opportunity each night to see the bats. Just as night falls, but before full dark, one can stand or sit on the back patio, and, if one is lucky, see the bats before the light fades completely. The best way to catch sight of them, is to try to relax your focus and look up against the sky, where they will be silhouetted as they cross the gap between the trees. Against the trees, they are nearly invisible, a flitting shadow against a darker shadow.

If your timing is right, and the weather cooperates, there can be ten or fifteen minutes of prime bat watching. A week or two ago, we had house guests, and I stood with one of them in our conservatory at the batting hour, and fortune smiled upon us. We saw a couple of bats, and we like to think it was a bat couple. They flew close together, in a display of harmony which, even it if wasn't marital, was delightful. More recently, my wife and I sat and watched as a handful of bats took turns swooping and diving across the garden - hopefully reducing the insect population at every turn. It is a gracious and calming way to end the day before retiring and leaving the night to the bats.

Though not a sign of spring as such, with warmer weather and longer days, more time can be spent in the garden. On Sunday, the chainsaw made short work of two dead pines, smallish ones, along the north wall, and slightly longer work of a stand of pampas grass. With the pampas grass gone, the rose bush at the bottom of the garden is now visible from the patio. A nice place to sit and enjoy the view. Perhaps with a mint julep.
---
Luddite'sLog, 11 June 2018
© 2018 Jeff Berry