I carry no phone
An aspiring Luddite
In a wired world.


Jeff Berry is an early adopter of the Internet and the Web, a late adopter of Twitter, and declines to adopt Facebook or Livejournal. (Although he did succumb to the lure of Google+.) He hates cell-phones.
---
Mixed Vegetable Frittata and Peach Crumble
26 July 2012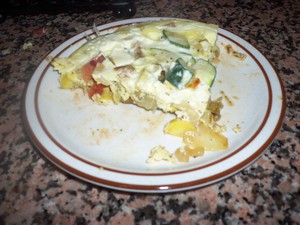 Growing up, I did not much care for zucchini. We ate quite a bit of it, and I never saw the appeal or understood why. Then I grew up, at least somewhat, and learned that part of the reason why is that, as near as I can tell, it grows well everywhere and is nearly indestructible. Thus, everyone's garden had lots of zucchini in it, and so if you had a garden, you ate a lot of zucchini. And probably gave lots away.

Now that I'm with a CSA, the same thing holds true. We get quite a bit of zucchini, as well as yellow summer squash which seems to work the same way. It is fortunate then, that, as I grew older, I began to appreciate what you could do with these vegetables. They are not strongly flavored, and consequently carry other flavors well. Raw, they have some crunch, but cooked, they rapidly break down and can be mashed or puréed. That's what I did a few weeks ago with a squash dip. The same week, I also made a peach tart. I revisit and revise the concept this week with a peach crumble.
For the squash, though, I went with a frittata of sorts. This is the kind of dish that is easy to make, doesn't require a lot of attention, and only uses one dish. As a bonus, it's stove-top so the oven remains off.
On an unrelated topic - design-wise for this site, I'm trying something new. The image at the side has links to larger versions of the pictures, for those who would like higher resolution food porn. Comments would be welcomed.
Mixed Vegetable Frittata
an onion
a medium red turnip
2 yellow summer squash
a zucchini
6 eggs
a couple of Tbs of cream or crème fraîche
some olive oil
salt and pepper
Cube/dice the onion and the turnip. Put a little olive oil in a heavy pan, add the turnip and onion and just a pinch of salt. Turn the heat on low, cover the pan, and let the veggies sweat for about fifteen minutes, stirring occasionally. At this point, they should be just starting to get soft.

Cube the squash and zucchini, add them to the pan. Add a bit more salt and some pepper and give it a good stir. Turn the heat up to medium high and don't cover. Let that go for about ten minutes, stirring once or twice.

Lightly beat your eggs, with the dairy, if so inclined. (Or skip the dairy, it's no real skin off my nose.) Pour your eggs evenly over all the vegetables, turn the heat back down to lowish, cover and let it cook for five minutes or so, until the eggs are set. Cut and serve.

Peach Crumble

10 or 12 ladyfingers/biscuits de Savoie
six or eight peaches
2 cups water
2 cups sugar
a splash of Grand Marnier
2-3 Tbs flour
2-3 Tbs butter
1-2 Tbs sugar
4-6 Tbs oats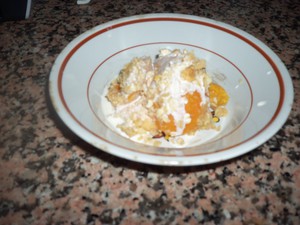 Cut the peaches in half and remove the pits. Make simple syrup with two cups each of sugar and water. When the sugar is dissolved add the peaches and simmer for five or six minutes, then remove them. They can be cooled and kept in the fridge for quite a while at this point. You also now have some peach flavored simple syrup for use in cocktails. I recommend margaritas.

Make a layer of ladyfingers in the bottom of a baking dish. Mix a couple of tablespoons of the peach simple syrup with a splash of Grand Marnier and drizzle it over the biscuits. Layer the peaches on top.

Prepare the crumble topping. Put your flour, sugar and butter in a bowl and mix together with a fork. You want it crumbly, not smooth. Take another couple of ladyfingers and crush them thoroughly. Add them in along with the oats. Give it a quick stir and then spread it on top of the peaches. Pop the whole thing in a 350F oven for about half an hour.

I like to serve it with cream on top.
---
© 2012 Jeff Berry
---
The Aspiring Luddite