I carry no phone
An aspiring Luddite
In a wired world.


Jeff Berry is an early adopter of the Internet and the Web, a late adopter of Twitter, and declines to adopt Facebook or Livejournal. (Although he did succumb to the lure of Google+.) He hates cell-phones.
---
Pasta with Portobello and Shitake Mushrooms
7 April 2011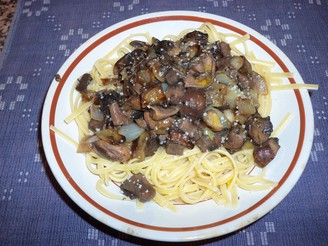 One of the things that's lovely about the farmers market here (and most places probably) is that from, time to time, new farmers join our merry band. One of the not so lovely things is that now and then one drops out of the line-up, but that's the nature of things. Still, the lovely arrival a month or so ago was the mushroom vendor. Perhaps it's the hobbit in me, but mushrooms are a favorite, and I'll eat them just about any way you can think of. Simply roasting or sautéing a portobello cap is easy and satisfying; poaching wild mushrooms in cream is fabulous, although certainly not medieval-Lenten; they are pizza toppings; and, of course, they can be used with pasta.
Just adding mushrooms to a pasta sauce certainly works, but if you've got good, flavorful mushrooms, they can, and probably should, be the star of the show.
Pasta with Portobello and Shitake Mushrooms
2 small onions
1 large portobello mushroom, including stem
1 good sized handful of shitake mushrooms
olive oil (see note below)
salt and pepper
1 Tbl flour
a splash of red wine, a quarter of a cup at most
enough pasta for two
sea salt
good olive oil for dressing the dish (see note below)
Start your pasta water heating.

Heat a little olive oil in a skillet on a medium-high flame. Dice the onions and add them to the skillet with a pinch or two of salt. Cook them for 10-15 minutes, still medium-high, until they're nicely brown. While they're cooking, dice the mushrooms. When the onions are ready, remove them from the skillet, leaving as much oil and liquid in the skillet as you can. Put the 'shrooms in the skillet along with a splash of red wine and another pinch or three of salt. You might need to add a touch more oil at this point. Turn the heat up to high to let the mushrooms cook and to reduce the liquid you just added.

Start cooking the pasta. My pasta of choice here would be Savoyard "trompettes," but I was out. Spaghetti or linguine works fine, though.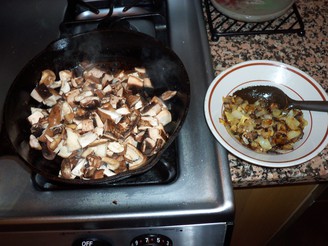 As the pasta cooks, stir the mushrooms as they cook. When they are nearly dry, push them all up to one side of the pan and tilt it so the liquid pools on the other side. Add the flour to that liquid and mix it well, it will help to thicken the dish. Put the onions back into the skillet and stir everything together. Your pasta should still have just a couple of minutes to go at this point. Spoon some of the pasta water into the mushroom and onion mixture and keep stirring. Add as much as you like to get the texture you want, but I prefer to keep the mixture fairly tight, so I don't go overboard. A half of a cup is probably ample, but do it in stages so you can get it the way you want it - it's harder to get the water out than it is to add more.
When the pasta is done, plate it up. Finish it with a little sea-salt and a drizzle of olive oil. If it's not Lent (or you're not medieval), a grating of Parmesan could stand in place of the salt and oil. Or be in addition to one or both.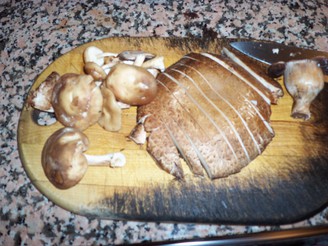 Olive Oil
I think it was Mario Batali who pointed out that cooking with really high end olive oil is kind of a waste. He recommended keeping more than one type of olive oil handy. I took this recommendation to heart and pass it on to you all. Personally, I think two is adequate. Both should be extra virgin, naturally, since that guarantees mechanical extraction rather then by chemical processes. One can be a fairly pedestrian, relatively neutral oil, used for cooking and compounding dressings where the flavor of the oil is not going to be center stage. This will usually be a comparatively cheap oil. The other should be a flavorsome, aromatic oil used for finishing dishes and applications where the oil itself is a large part of the appeal. That will usually be a more expensive oil.
---
© 2011 Jeff Berry
---
The Aspiring Luddite