I carry no phone
An aspiring Luddite
In a wired world.


Jeff Berry is an early adopter of the Internet and the Web, a late adopter of Twitter, and declines to adopt Facebook or Livejournal. (Although he did succumb to the lure of Google+.) He hates cell-phones.
---
Breaking the Lenten Fast - To Excess
28 April 2011
As is traditional for me, the breaking of the Lenten fast returns you to your regularly scheduled program of charcuterie, offal and dairy products. Usually, we meet friends somewhere for some sort of large-scale indulgence - one year it was half a barbecued pig, another year it was a large-format feast at Resto where we chose the lamb, and so on.
This year, we decided to invite over our usual partners in crime, food-blogger Kathryn McGowan of Comestibles, and her husband Matthew. The plan was that I'd go crazy with the flesh, and they'd provide the wine.
I wanted to do a lot of small plates and fussy food, mostly because I could - and could make use of some of my favorite ingredients. The menu is heavy on dairy, offal and venison, although pork will not be neglected - after all, I've got head-cheese left, and I won some bacon in fencing tournament a week or so ago. I'm also tossing in a bit of fish. Why the hell not?
The menu:
braised venison tartlette with smoked paprika crème fraîche
tilapia ceviche
pork terrine and headcheese, both already elaborated on in these pages, a commercial Portuguese sausage and cornichons with bread
gallette of home-cured and smoked bacon and fresh home-made cheese
offal and bacon en brochette, featuring bunny liver, kidney and heart, goat heart, and chicken liver with a bit more prize bacon
headcheese jus mousse with garlic scapes
broiled goat chops with sorrel chimichurri and brussels sprout slaw
a cheese plate with some Brie-style goat cheese from the farmer's market and three kinds of homemade cheese: a hard salt-rind style, a softer brined rind style, and a feta style. Sardine toast.
leek and portobello mushroom sops (mostly medieval no less). Duck confit and wild mushroom crepes, with asparagus.
kale soup
I'm not going to try to give you recipes for everything, at least not all at once. Especially since some of these dishes were experiments and did not turn out as well as I might have hoped. Those may return later after I take another stab at them.

On the other hand, several of the dishes turned out very well indeed. So we shall start with


Goat Chops with Sorrel Chimichurri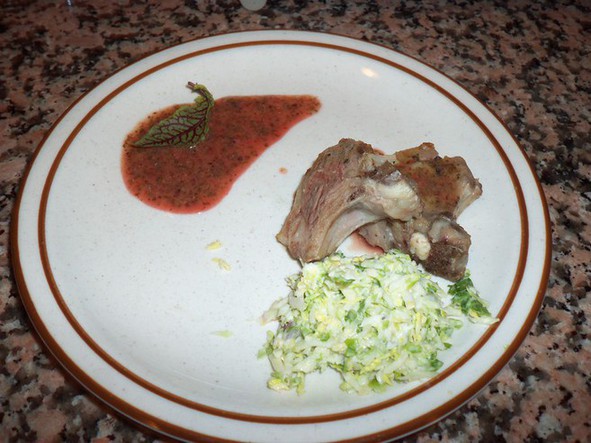 2 goat chops per person
1/2 cup vegetable oil, a neutral oil is best
half an onion, chopped
8 or 9 juniper berries, crushed
Combine the last three ingredients, add the chops and marinate for a couple of hours. When it is time to cook, set the broiler on low, rinse the chops and place them on a baking sheet. Broil for two minutes on one side, flip them and rotate the baking sheet, then broil for another two minutes.

If you would rather grill the chops, it should work just as well - be careful, they are tiny little things and easy to over cook. If you can't get goat chops, lamb loin chops would be a good substitute. The goat is well worth getting if you can, though.

Sorrel Chimichurri

This is a medievally inspired recipe, actually. A lot of 14th and 15th century recipe collections include recipes for a sorrel sauce, usually sharpened with verjuice and intended for fish. I modified it into a chimichurri, using sorrel in place of parsley.
a small handful of sorrel
1/2 cup of olive oil
1/8 cup red wine vinegar
2 cloves of garlic
1 tsp of red pepper flakes
2 good pinches of salt
Combine all the ingredients in a food processor and smash them up pretty good. It's best if you let it sit for at least an hour or two before serving. If you're going for a nice presentation, reserve a few of the sorrel leaves for garnish.

I served this with a brusells sprout slaw. The recipe is the same as the one I use for regular slaw, only with shredded brussels sprouts as the main ingredient rather than cabbage.
---
© 2011 Jeff Berry
---
The Aspiring Luddite